June 12th, 2017 - H-Manga Update
Posted on: 06/12/17
Posted by: Forbiddenfetish7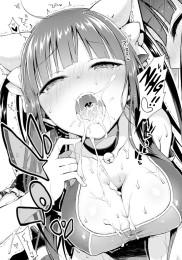 26 New English-Translated H-Magazine Chapters:
-
Bath Trouble! -Oneshota Dish
(gyaru, wet clothes, schoolgirl, shota)
-
The Poison That Sweetens
(snake girl, femdom, shota, age regression)
-
Tamashii- INSERT LEVEL 5 - Danjo Kousaku Ecstasy
(fpossession, MILF, sister, ffm threesome)
-
A Tale of the Swordswoman's Sexual Depravity
(mindbreak, corruption, elf, shota)
-
Saint Yurigaoka Jogakuen Seido-kai
(mind break, impregnation, schoolgirl, panyhose)
-
Tamashii- INSERT LEVEL 7
(futa x trap, femdom, stockings, tall girl)
-
Don't Get Nervous, Nao-chan!
(schoolgirl, tracksuit, sweating, tomboy)
-
The Lewd Acting Girl
(impregnation, lactation, buxom, big nipples)
-
Love Step-Up
(lol*con, shota, defloration)
-
Aikagi Kankei
(cousin, lol*con, defloration)
-
Disconnect Girl- Little Strange Lovers
(schoolgirl, yandere, bondage)
-
Saint Yurigaoka Jogakuen Seido-kai Conclusion
(impregnation, ffm threesome, slave)
-
Arrow Training -Muni Chichi
(defloration, defloration, archer girl)
-
A New Older Sister
(femdom, sister)
-
Garudere
(maid, stockings, tomboy)
-
Kago no Naka no Tori- Koushoku Shounen Vol. 01
(trap-yaoi, prostitution, josou seme)
-
Aru Hitobashira no Kioku Ch. 1-2
(footjob, oni, femdom)
-
Hobby Friend
(crossdressing, schoolgirl, double penetration, shota)
-Sleep Signal (cheating, tomboy, shota, mmf threesome)
-Slave Elimia (dark skin, lol*con, elf, stockings)
-Dreams Come True (bikini, defloration, full color)
-Sisters bare Boobs 3.5 (sister, stockings, buxom)
-Gender Swap Revenge (gender bender, r*pe, glasses, school uniform)
-Creamy Milk Pudding (sister, stockings, apron)
-Ahhn <3 Balance (femdom, hairy, smell, buxom)
-Marriage Rouge (bride, impregnation, r*pe, sleeping)
10 New English-Translated H-Manga Additions:
-
Majimena Aitsu ni Aniken no Ore ga Oshiete Yareru Koto Ch 1-2
(MILF, stockings,3some)
-Love Attack Ch. 1-4 (femdom, ffm threesome, inverted nipples, schoolgirl)
-The Slave of Three Sisters Ch. 1-8 (aunt, cousin, femdom, MILF, drunk, ffm threesome)
-Voluptuous Plump Boobs<3 Ch. 1-3 (buxom, bbw, lingerie, ffm threesome)
-Secret Plot Ch. 1-5 (femdom, teacher, stockings, shota)
-Mama Friend Harem (MILF, ffm threesome, buxom, breast feeding)
-Fanaticism Ch.1 (stockings, maid, ffm threesome)
-I've always loved you... Ch. 1-11 (tomboy, schoolgirl, toys, stockings, ffm threesome)
-Shokutai no Yoru Ingoku no Chigiri Ch.1-2 (foxgirl, drugs, NTR, r*pe, wolf girl)
-THE MARRIED WIFE -Hitozuma series Ch. 1-4 (NTR, impregnation, impregnation)
(The titles without links are only in the
member's section.
)